28 weeks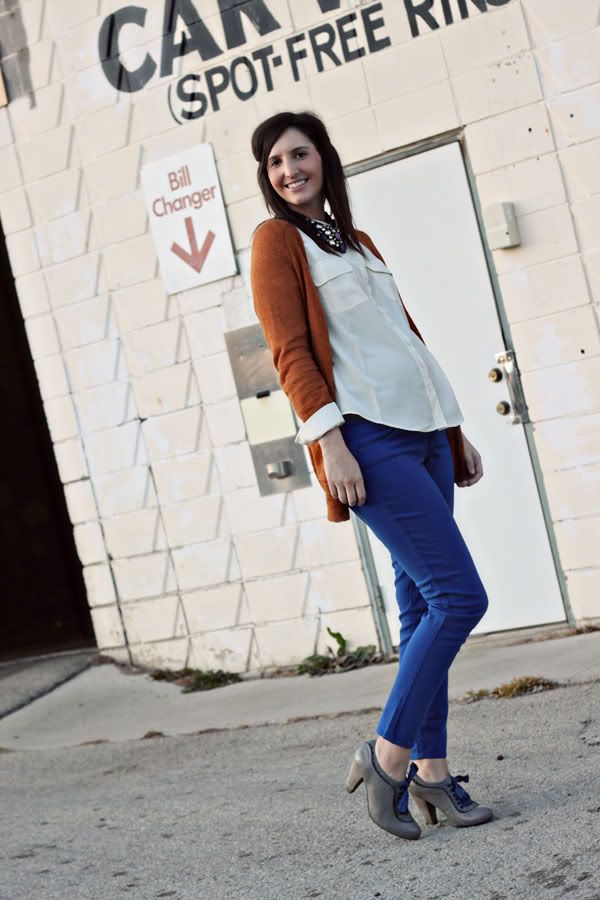 when: sunday, dec. 18, 2011
what i wore:
shirt: modbod
necklace: c/o charming charlie via txscc (i think)
cardigan: wallace via madewell
jeggings: american eagle
belly panel: forever 21
shoes: poetic licence (won via @wemusthaveshoes)
where: church
i'm officially in the third trimester! and i'm getting really excited that in 12-ish weeks we'll be bringing home a baby. my mental/emotional state has improved a lot in the past few weeks. i think starting our birth class was a big factor in that. remember how overwhelmed i was just a couple weeks ago?
i really love my belly. it's so big and round now! i think it's quite a bit bigger than last week, so we're pretty sure i'm growing daily. it's fun because more people notice and ask me how i'm feeling and when i'm due. i love it because i try not to talk about it unless people ask. (i don't want to be an annoying pregnant lady!)
my wedding ring still fits, but it's starting to feel tight. i usually take it off at night so that i don't wake up one day and can't get it off!
it's very fun to be pregnant around Christmastime…thinking about Mary having Jesus and what she must have been feeling, and also seeing all our family members and showing off my belly :)
pre-term labor is my biggest worry right now. eric's, too. i want this little girl to stay in there until it's safe to come out. symptom-wise sometimes it's hard to distinguish between what's normal and what's not…so i just keep monitoring and asking and reading and praying.
i've been sleeping through the night without trips to the bathroom for months now. i'm not sure how much longer it will last, but i have definitely enjoyed it!
i am loving button-down blouses right now, but i don't think they're the most flattering for my belly. i'm planning to switch to tighter tops.
i have my glucose test in a couple hours! wish me luck!