how to dress a baby bump, part 2: 2nd trimester
this is a follow-up to part one (1st trimester / up to week 13).
this documents my experience in getting dressed during weeks 14-27 of my first pregnancy.
because i love clothes so much, i was nervous when i got pregnant that it would be terribly tough to stay stylish. i've definitely had some bad outfits (eek!), so my hope is that this will help me be more prepared next time (and maybe this will also help you!).
my worst outfits are when i try to hide or downplay my belly. i get compliments when i wear spandex and tight shirts, so i'm taking advantage of that while i can still get away with it!
i think my biggest piece of advice is to learn as you go. don't buy something that you don't need yet, because you don't know if it will fit you later or if you'll even like it. i'm speaking specifically about belly bands and maternity jeans…those are two things i bought early on and never wore because i didn't like them once i actually needed them.
as much as i didn't want to spend money on clothes that don't fit my normal body, i needed to continually shop throughout the months as i grew and changed.
i borrowed some clothes, but i think it's important while pregnant to feel as much like your normal self as possible. depending on the style, borrowed clothing might not do the trick. or it might!

it's strange, but because my bloating went down significantly as i neared the 2nd trimester, my pants weren't as tight at 14 weeks as they were at 10 weeks. some days they even buttoned (that is, until dinner!). we had already announced our news, but i could definitely hide my bump with loose tops.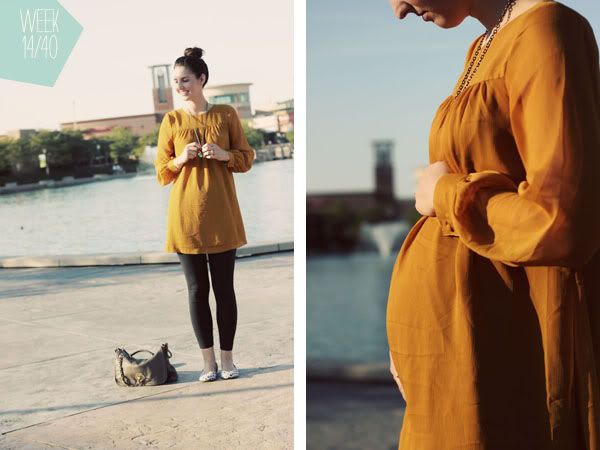 i was really learning in weeks 15-18 that every day is different. you just have to be flexible! there were days in week 18 where my pants actually buttoned, but had no chance of even zipping the next. it's very strange. (this is also around the time when i started to gain weight.)
at this point, i was getting tired of wearing the same tunics over and over. i was also needling a little more support for my belly. full-panel maternity pants do feel nice…although after a few hours they start to bother me. i continually chose my pre-pregnancy jeggings instead (using the hair-tie trick). the only thing is that you then have to wear a shirt that hides the fact that your pants aren't buttoned. which can limit the number and type of shirts that you can wear and feel very boring…
some notes from week 24:
i gravitate toward the same two (h&m) sweaters every day.
i'm looking forward to having my body and old clothes back!
long, stretchy shirts work best for me at this point.

notes from week 26:
i'm definitely starting to need maternity clothes! i was waiting as long as possible, and i think this is the end of the road for me!
it's fun and more attractive to wear tight clothes that show off the bump.
i get lots of comments that my bump doesn't appear as big as it should. i have a super long torso!
» vests, cardigans, scarves, necklaces, belts and earrings can transform a simple outfit. being able to add these types of things to your outfit makes me feel a little more normal…a little more like old times.
i'm still wearing the same underwear from pre-pregnancy. i think they are probably stretched out now but i decided that i'd rather buy new ones after she's born.
i'm also wearing the same size bra but will be purchasing a nursing bra in the coming months.
what are your tips and tricks to dressing a baby bump in the 2nd trimester?