guest post: pint-sized blogger
this guest post comes from brandy at baby blackbird. i love reading her blog to see her adorable kids' snappy outfits, and for all her awesome kiddo styling ideas.
» for a couple photos of my little Rooney and a day-four update, click here!
Hi Snappy Casual-ers!! I'm so excited for Kelsey, holding her new baby girl close, breathing in the sweet newborn baby smells.
I'm Brandy, I write the little style blog called Baby Blackbird. It's all about cute kids (mostly my own rugrats), their stylish clothes and a bit about my own little family (and my style and DIY obsessions). So if you dig cute, stylish kids you should come by for a visit sometime!
Once in a while I write a little post called Pint-Sized Blogger, where I create a pint-sized replica of an awesome style blogger's outfit. Well since Kelsey is hopefully napping with her sweet baby girl on her chest (one of my most cherished memories of my babies as newborns), I thought I'd create a pint-sized replica from one of Kelsey's outfits. The PERFECT mini-mom outfit.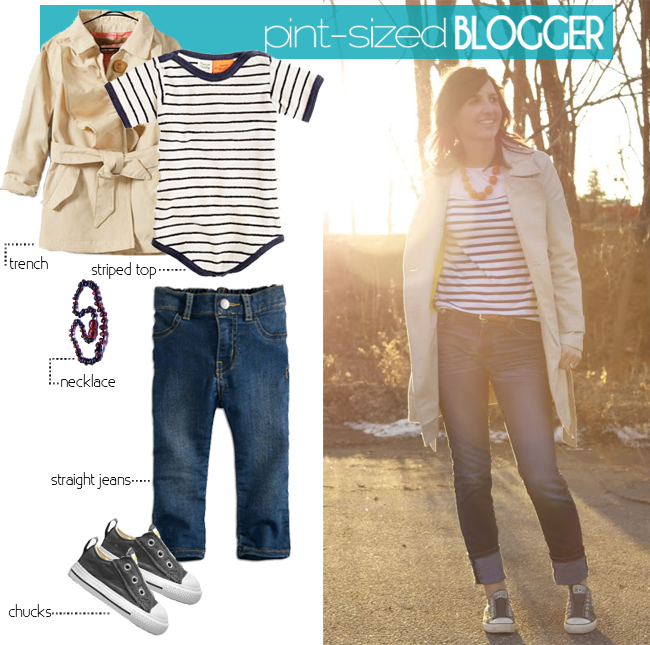 zara trench . crewcuts striped onesie . amberforsale amber teething necklace . 77kids straight leg jeans . converse chucks . Kelsey's 21/30 outfit
I went back a whole year in Kelsey's archives; I wanted to pick an outfit that was pre-pretty pregnant lady and one that would be perfect for a little baby. I love this outfit of Kelsey's (the perfect chic and casual mix), and how cute would she look holding her little mini-me in this same outfit?
The necklace is pretty and has awesome baby function: It's a cherry amber teething necklace (I swear by amber necklaces to help relive teething symptoms).
Thanks for letting me spend some time on Snappy Casual; stop by Baby Blackbird and say hi anytime! I know I'm not the only one who is over-the-moon excited and happy for you, Kelsey! I cannot wait to see you and your little family grow on this blog of yours!