35 weeks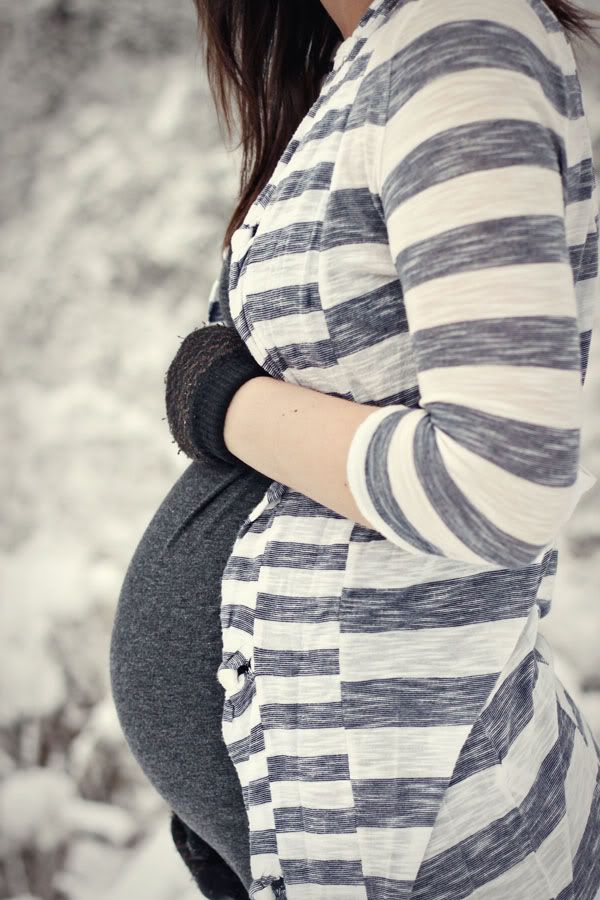 when: sunday, feb. 5, 2012
what i wore:
headband: forever 21
tank: forever 21
cardigan: three dots via anthropologie
mittens: target
leggings: be maternity
boots: old navy
where: super bowl party
we're attending midwife appointments every week now. combined with other baby-prep like a hospital tour, baptism class, breastfeeding class, baby care class, interviewing day cares, etc., we're busy busy tying up loose ends for this little one.
i've been ordering a lot of post-baby clothes for myself lately. i'm itching to get back into my normal clothes. hopefully i'm not too disappointed if/when i can't wear them right away, but i've gotten a belt, shoes, a cardigan, jeans and a shirt in the past week. :) online shopping is awesome. and i'm so glad i know my measurements because nothing fits normal right now. yes, i actually bring a tape measure with me to the store. :)
mamas, where are the best clothes for nursing?
my iron levels were a little low last week so i'm now on a supplement for that.
i've started to retain a little fluid in my feet, ankles and hands. some days i have to go without my wedding ring :( and i have to choose my shoes wisely. i wear a 9.5 but some shoes only come in full sizes so i have a few pairs of 10s that have come in handy lately. no more heels for me (because of the swelling). now i know why they say to take maternity photos around 32 weeks. i definitely feel less and less attractive with each day.
i know i'm big, but can you believe there is a five-pound baby in my stomach? and that she's a foot and a half long? it's simply amazing.
i have been packing on the weight lately! total weight gain = 21 pounds
baby's heart rate at last appointment = 140 bpm. (i didn't realize this, but the beats per minute go down as the baby's heart gets more efficient.)
my group b strep test came back positive :(
physically, the past three weeks have been considerably HARDER. after dinner it is very difficult to find a comfortable position on the couch. i am still sleeping pretty well…only waking up a handful of times to flip over. i also wake up sweating most nights. there is also so much belly that it gets in the way of bending down and can be frustrating.
i can't believe we're nearing the end. being pregnant has been such a ride. there are times when i cry and am overwhelmed with the task of carrying this life (and all these emotions). there have also been many happy moments when i can't even contain the love i have for my husband and our little girl. we are blessed. pregnancy is something you have to do mostly on your own. no one else can do it for you. although you can get help from your spouse, family, friends, etc…you are the one who is making sure she survives, and your body is the one that's affected. it's a tough but empowering job!
i may have teared up when i realized that eric and i had both made plans that would mean we'd have to spend two nights apart about six weeks after her due date. and then he decided to cancel his plans so we won't have to. love him. :)
can you tell there are lots of random thoughts going on in this brain as we near the end?!