almost famous.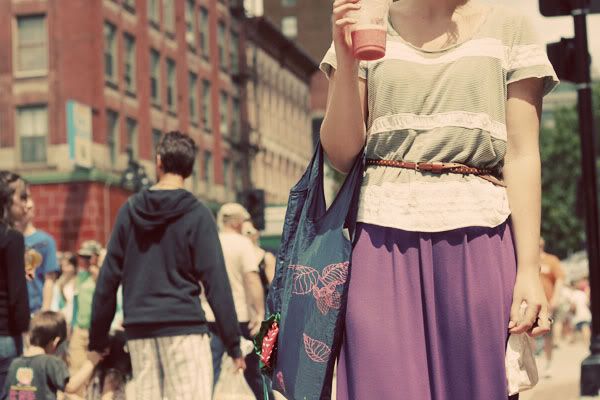 when: saturday, june 11, 2011
what i wore:
sunglasses: gift, original penguin
shirt: ruche
belt: target
dress: pretty good via tj maxx
shoes: simply vera vera wang via kohl's
reusable shopping bag: gift, koko city shopper
where: farmers' market
the des moines farmers' market is one of our favorite things to do in the summer. it's a really big deal around here. there are more than 200 vendors and 18,000 people there every saturday morning from may to october. last weekend was our first visit of the season. we ate breakfast when we got there (a breakfast burrito for eric and mini donuts and a smoothie for myself), and then walked around and bought some cheddar cheese popcorn. i've been enjoying it all week!
so, funny story: i asked eric to take photos of me at the market so you could see all the other people and vendor tents. as i was posing i noticed a guy about my dad's age watching us. after a while, he walked over by eric and took a picture of me on his point and shoot camera! it was so funny. and weird. i'm not sure if he thought i was famous or what. i wanted to tell him, "dude, i am not sara bareilles. if you want to see someone famous, shawn johnson is here and you should go find her."