her outfits: dwelling & telling
hello, snappy casual readers! i am linley from dwelling & telling, and today kelsey and i are swapping blogs! she and i met through the 30 for 30 challenge back in the fall. we realize that while we each have our own individual style, we also share a very similar style—and the exact same blazer. so we've swapped blogs to show our own take on styling this blazer down for a casual look and up for a more dressy look.
to see how kelsey styled her blazer, visit my blog and check her out!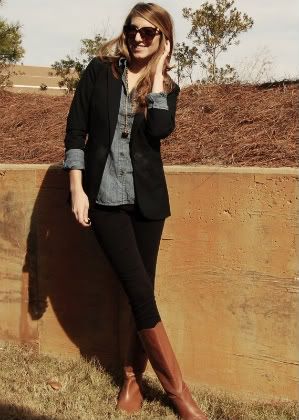 dressed down:
sunglasses: betsey johnson via tj maxx
button-up: target
blazer: target
necklace: target charm on forever 21 chain
legging jeans: target
boots: steve madden
dressed up:
sunglasses: betsey johnson via tj maxx
dress: bb dakota via tj maxx
blazer: target
necklace: boutique in pawleys island, s.c.
belt: thrifted
tights: target
booties: steve madden