her snappy outfit: jentine from my edit
meet yen! a landscaper by day and a fashion blogger by night, she's the funniest canadian you'll ever meet. seriously. but don't let her sarcasm fool you. she's a total sweetheart and softie for abandoned cats. perhaps best of all, she's a pro at thrifting and inspires me to never spend more than a few dollars on a silk shirt.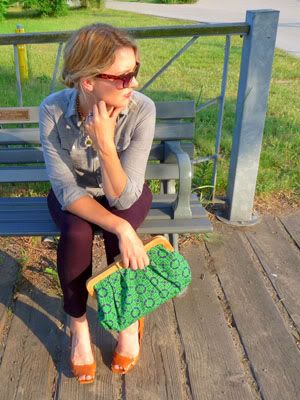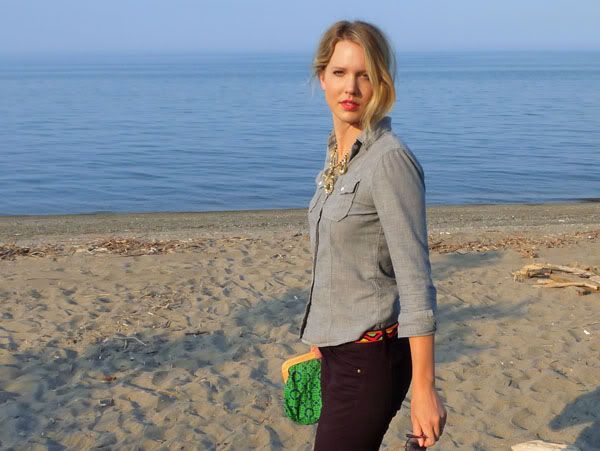 Shirt? Gap
Eggplant jeans? Gap
Shoes? Vince Camuto, Winners
Necklace? Banana Republic
Clutch? Old Navy, thrifted
Belt? Thrifted
In honour of Kelsey I did my best Snappy Casual look. To be honest (which I usually am, unless you ask me whether or not I watch The Bachlorette…OK, I do…or maybe I don't), I would often consider myself to be more Snappy Overdressed than Snappy Casual.
However, on this particular evening, I think that even if I had gone with something over the top, I would have paled in comparison to anyone else out that night. It turns out we made our dinner plans at a waterfront restaurant that was also hosting a Latin music and dance event.
And I guess Latin night means that ladies of a certain age, who are often referred to in a slang way as a particular group of felines, were on the prowl. And my favourite fit of pants and bestest necklace could in no way compete with deep tans and even deeper cleavage.
So Snappy Casual I was indeed…