nothing special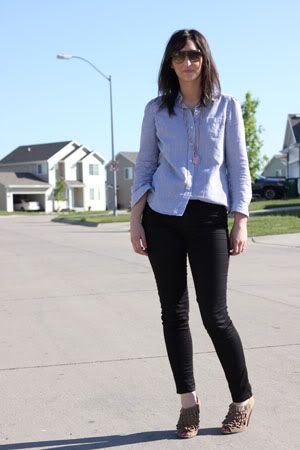 when: tuesday, may 17, 2011
what i wore:
sunglasses: gift, original penguin
shirt: old navy
necklace: forever 21
jeggings: american eagle
shoes: jessica simpson via DSW
where: work
i've got to be honest with you guys.
last night, my poor husband got the brunt of this word-vomit, but here i am again, today, with nothing else to say, so it's all coming out for you, too.
i don't necessarily think this outfit is blog-worthy, but i let myself out of the house in it, so i decided to photograph it and post it.
maybe that's how it always should be, but in the past i've tried harder on the days when i knew we would be taking outfit photos.
this was fine until recently, when i've been riding the struggle bus morning after morning to create a new, fun outfit—and wondering why i seem to run out of outfits to show you when i clearly get dressed every day. shouldn't this come easy to a true style blogger?
i know that simple outfits can be good. but simple isn't always exciting. and what if my outfit is just ok? do i not post that day? but is that not being honest with you, my readers?
i am a proud outfit repeater, and that has been hard to do since i started this blog. i miss it. i've spent a lot of time in the past six months on this blog, and while most of the time i love it, some days i get burnt out. i'm still working through this particular bout…
it's been rainy and windy here lately, and that does not make me want to dress cute or stand outside and take photos. i need a vacation, or a shopping spree, or a break. i'm sure you can relate. and i'm sure i can come up with more excuses, but i'll leave it at that.
i'll be back again tomorrow with another simple outfit, jeans and a t-shirt.
thanks for sticking around.
if you want to read something less dramatic, i posted on our family blog what it's like to live with my husband.