i'll be there, y'all!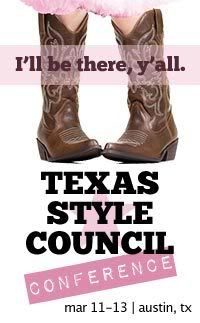 next month i'm attending the texas style council conference in austin, texas. i'm so darn excited! i've never been to texas before, and i'll get to meet some of my favorite bloggers (kendi, jen, james, linda, suze, linda and lisa) and lots of others! we're flying down for all the events (clothing swap, boutique crawl/scavenger hunt, dance party, fashion show—and of course the day of symposium).
we just (kind of on a whim) decided to go. we talked about it a few months ago, but i had dismissed it for bad timing. you see, my sister (aka best friend in the whole wide world) is scheduled to have her third daughter on march 8. i will definitely be at the hospital to meet her that night, but i'm sad that i will not be able to snuggle with her during her first weekend at home (yes, i realize she's not mine, …but i love being an aunt and treat my nieces like they're my own). i love that little baby girl so much already.
but as the conference was getting closer, i just couldn't stay away. the opportunity is too great to pass up!
will you be there, too??? if so, i can't wait to meet you!