making new friends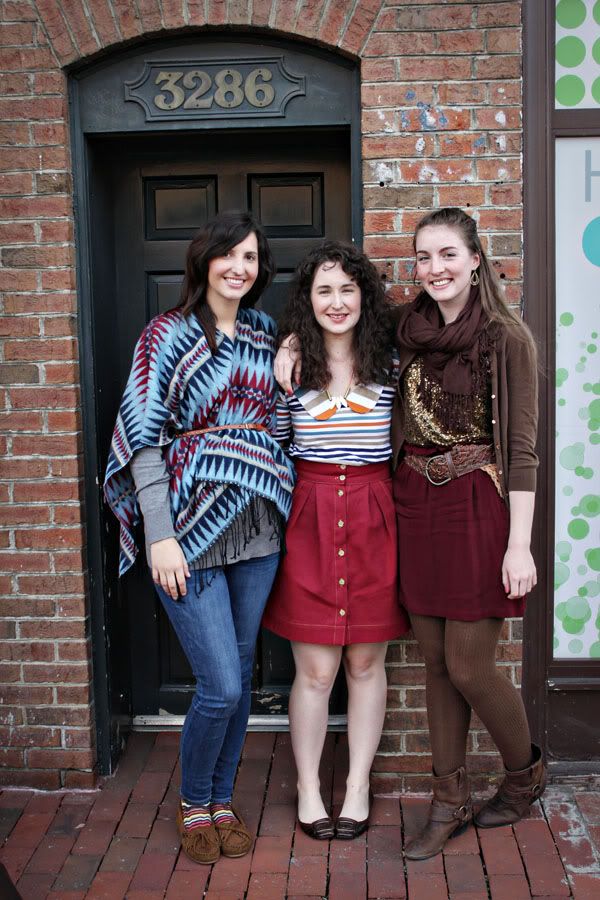 when: sunday, nov. 27, 2011
what i wore:
cape: asos via giveaway
belt: target
sweater: h&m
jeggings: american eagle
socks: gift, missoni for target
shoes: minnetonka via dsw
where: georgetown
i knew i wanted to meet these two lovely ladies as soon as we booked our trip to d.c., so i convinced them to meet up with us for pizza and shopping in georgetown on our last day in the city!
meeting bloggers is such a cool thing. i already felt like i knew them; i just didn't know exactly how tall they were or what their voices sounded like. :) if you aren't familiar with them, please allow me to introduce you…
megan is a mom and talented clothing designer (she's currently working on a maternity skirt for me!) with an awesome australian accent. i loved her hair, too! :)
and tania is a sweet, smart and fun teacher-by-day who moonlights as a fashion blogger. i'm pretty sure i could have talked to her all day. (you might remember her from this post, and you can see her outfit details here.)
who knows? maybe you and i will meet someday…
p.s. THANK YOU to joanne of fabulously average, rachael of rachael, really, and alicia of alicia blogs for sponsoring snappy casual this month!