how to dress a baby bump, part 1: 1st trimester
for me, getting pregnant was exciting but also terrifying. i was curious about how my body would change and what i would wear. when do i need new clothes? what do i need? what size should i buy? what should/can i borrow? i was really dreading it, but the 1st trimester wasn't as bad as i thought it was going to be. it's actually been fun to think outside the box and allow my style to evolve and branch out a little bit. i'll be sharing my maternity style thoughts over the course of my pregnancy, in case you're in the same place (and also to remind myself what to do next time). :)
p.s. my friend heidi also wrote up a helpful "what to wear?" guide that you may want to check out. she's further along than me and wrote mostly about maternity jeans.
at 10.5 weeks, i woke up one morning and my jeans wouldn't button. i mean i guess i could have forced it, but it felt very uncomfortable and restricting. and i was very bloated, so that was the last thing i wanted to do.
so for the next several weeks, i used the hair tie trick to keep my pants up (i'm writing this at 15 weeks and i'm still doing it). because my jeans were not actually buttoned (and sometimes not even zipped…), i needed to wear a long shirt, tunic or dress on top.
so i pulled out all the long shirts/dresses in my closet and made a new section for them. i had about 10. many of them are cotton and i don't want them to stretch out too much as my belly grows, but they'll work for the time being.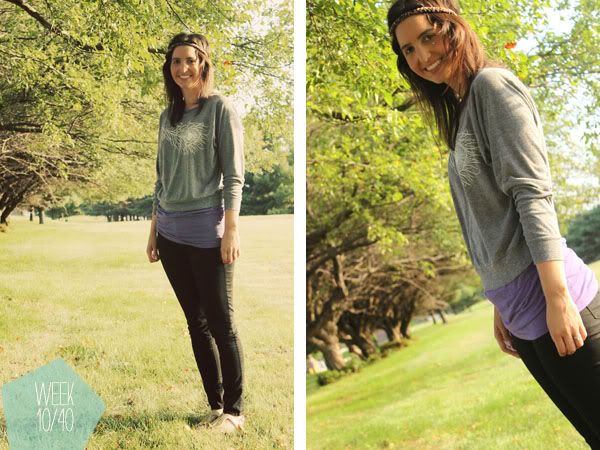 at this point i desperately needed to make a clothing plan — for my sanity and to keep up with my physical changes. we had announced our news to everyone so there was no need to hide it anymore. i went through every single piece of clothing in my closet and thought about how the item could work for me in the next several months. it was time to get creative.
in cleaning out my closet i actually did find a few more long shirts and tank tops that would work (especially with a cardigan since fall is on its way). i organized my closet according to shirt length.
around this same time, i started to get my energy back and felt like getting dressed again. ha. i even wore heels one day!

here's where it got really fun: i went shopping! i got mostly non-maternity tops that will last me for the next few months, but they still fit my normal body. i'm glad i went shopping this early so i could also envision how these items will work for me after pregnancy. you may already have a pregnancy-friendly closet, but i only had like two empire-waist or flowy shirts before i got pregnant.
i also got one pair of maternity jeans (with stretchy side panels) and a belly band. i wouldn't have needed to purchase these things this early, but i live three hours from a forever 21 with a maternity section. more to come on those items in the 2nd trimester.
at target i got a pair of maternity leggings because they will be perfect with my new long/loose tops through the winter. i have worn them every day since i bought them — totally worth it!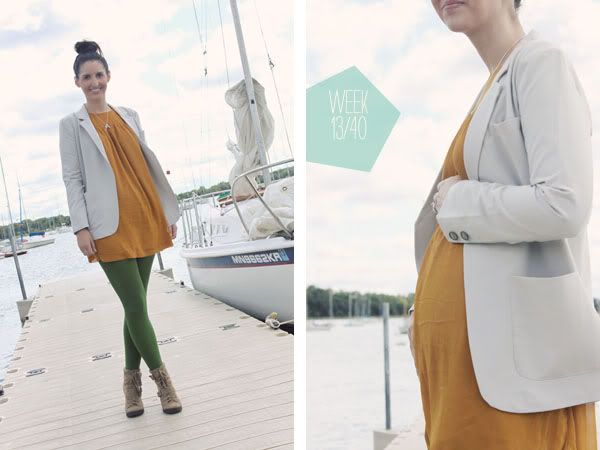 in the 1st trimester, i didn't need a new bra yet. i haven't noticed any growth in that area yet :) but i question whether or not my underwear are getting stretched out. as of now i have yet to purchase anything new…more to come on that!
» you can view all my pregnancy outfits here and the weekly bump photos here.
what did i miss? please share your experiences or questions in the comments below!